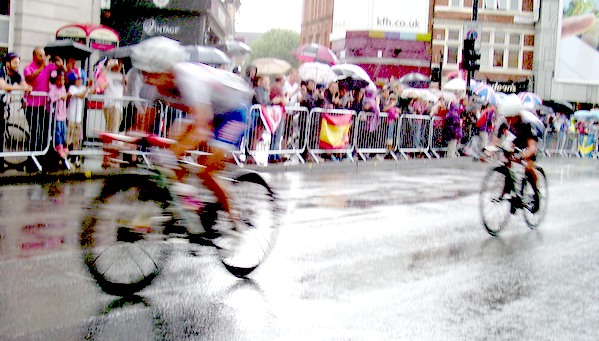 After a few poor quality photos that I have taken at the men's cycling road race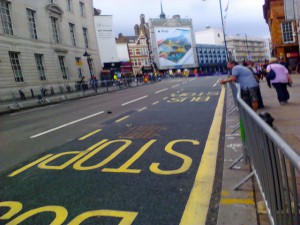 finishing line, grabbing my camera once again on the following day, I occupied a good spot along Fulham Road – adjacent to a roadside barrier outside of Fulham Broadway tube station.
The weather was not at its finest, but the intermittent showers did not deter patient supporters and photographers who wanted a glimpse of the women cyclists's epic return.
And their patience was rewarded handsomely – the break away group emerged from as early as Box Hill in Surrey – Dutch flyer Marianne Vos, Lizzie Armitstead (Team GB – yes <3!) and Olga Zabelinskaya of beautiful Russia. By the time they arrived near South West London, their racing velocity was above par, rivalling the leading safety/supporting vehicles which were running ahead of them. From my rough estimate by the side of Fulham Road, their speed attained were between 30-35 mph (about 48-56 km).  Yet the finishing line which was ending at The Mall was still some 5 km away!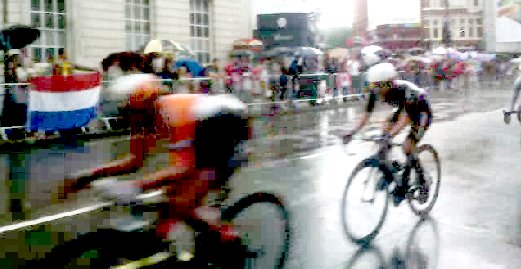 It was exhilarating to see these riders braving the (un)predictably British wet weather and greasy road conditions, having endured most of the 140 km course, they returned to complete the race – not with a whimper but shooting past at such astonishing speed through busiest and beautiful streets of central London, which are rarely closed for anyone privileged or anything urgent – apart from either major road maintenance or Her Majesty the Queen. Suffice to say it was a historic and a memorable moment for the riders, for the spectators and for London.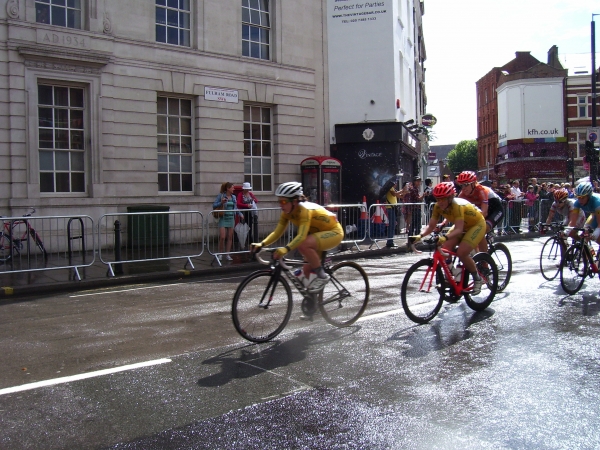 The full race result was published by the BBC here. I took a few video clips which I will upload later.