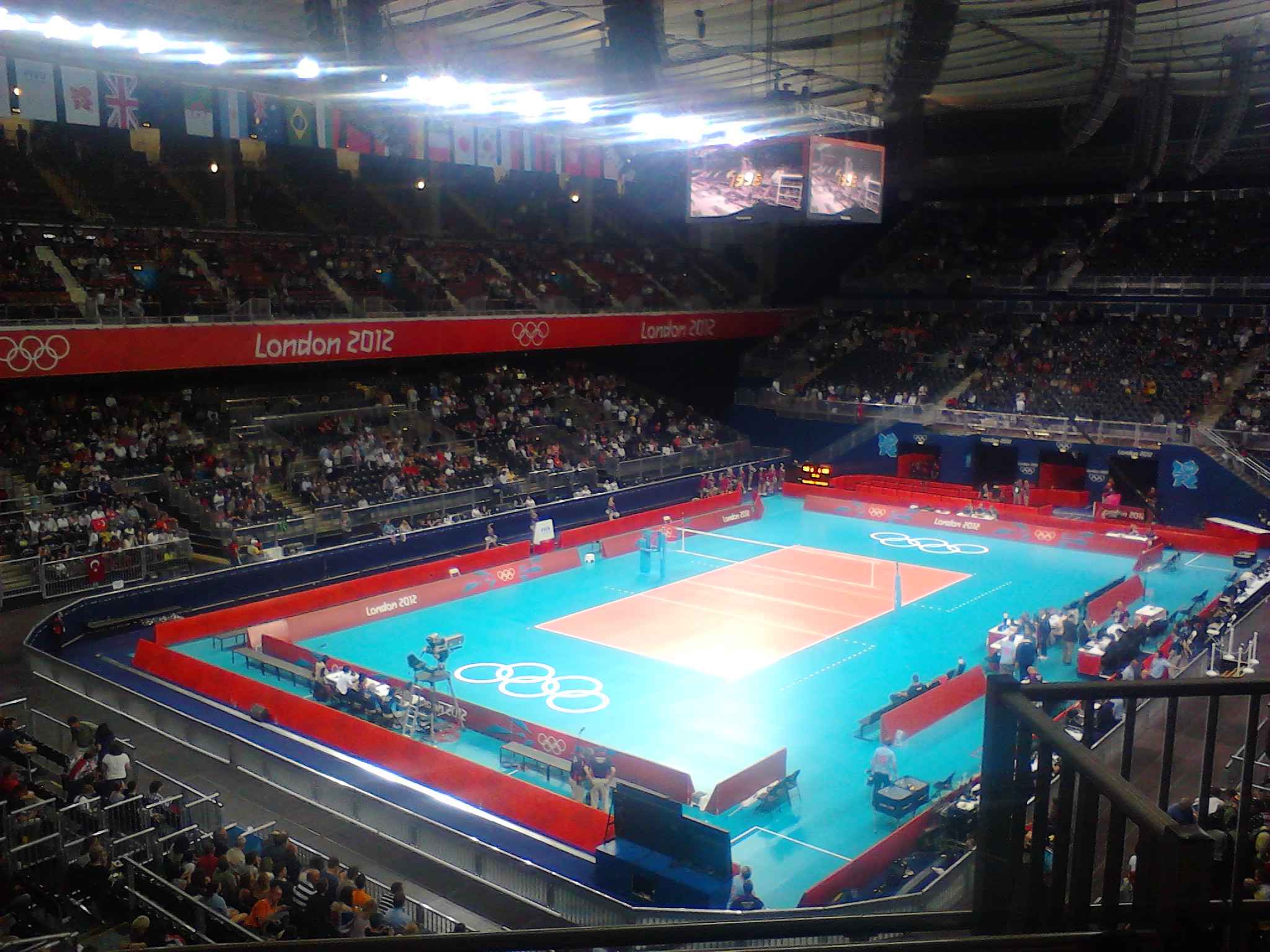 I was lucky enough to get a ticket for the Olympic women's volleyball event for £45. This gives me a chance to support Team GB – in the historic Earl's Court exhibition centre in West London.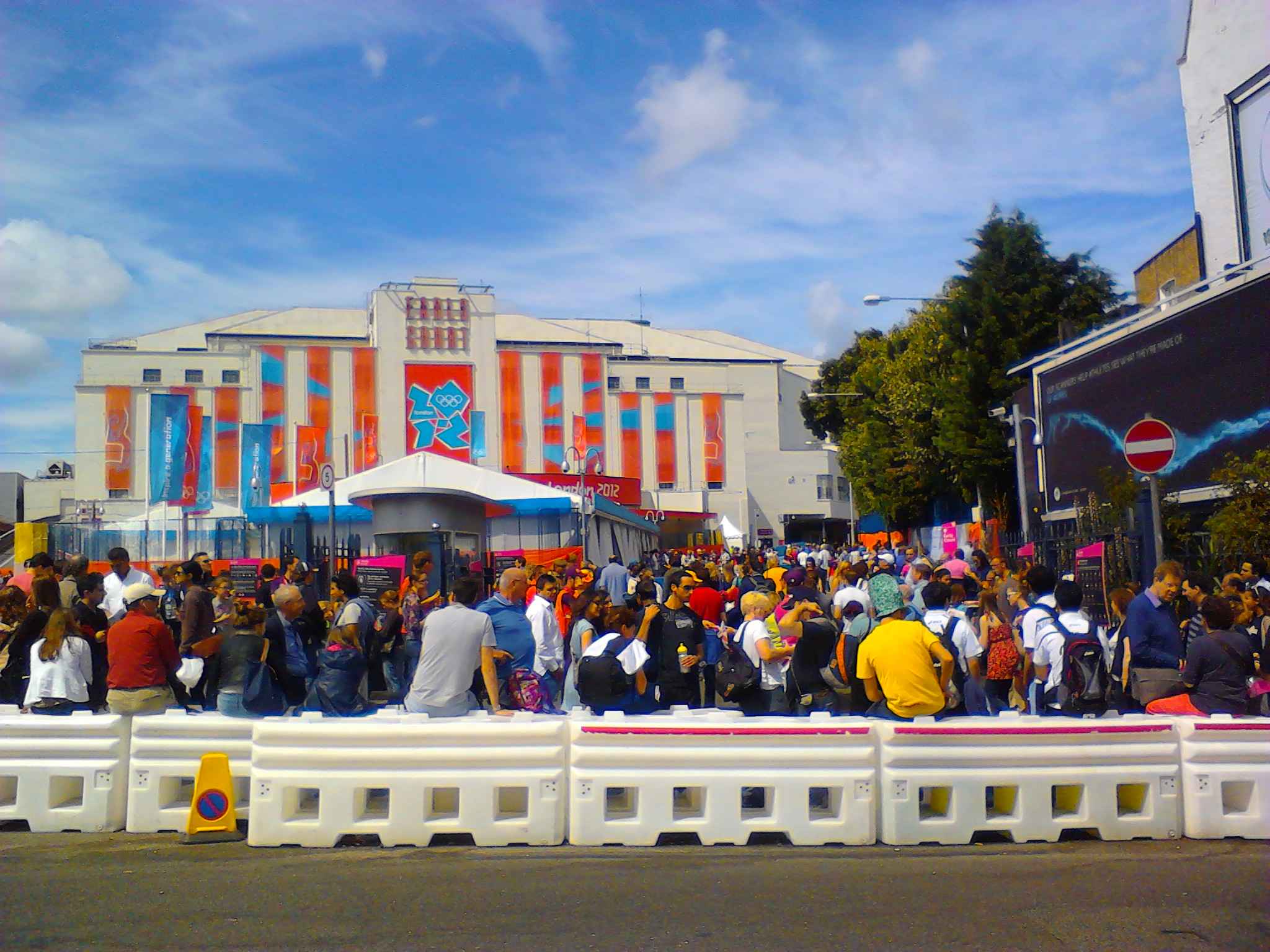 Along the way approaching the venue was a barricaded street soaked with a joyful party atmosphere on a sunny Friday afternoon.
There was no prolonging queue, no crushing/sandwich with other people – just a straight forward walk-up to the venue and through the security checkpoints. True to the British spirit – security check was efficient, civilised, polite and relax. My praises go to the Olympic organisers, volunteers and the armed forces for maintaining such order.
Once inside Earl's Court, this familiar exhibition centre that we know and love has been transformed into a foyer with stalls for food, drinks and souvenir shopping. The place was expectedly spacious which is good for stretching our legs, before entering the gladiator ring to sit down and watch the matches.

The queue for drinking water taps was shockingly long – understandably it was a free item on offer(!) and spectators will need every drop of it to sooth their throat for the intense vocal support later during matches.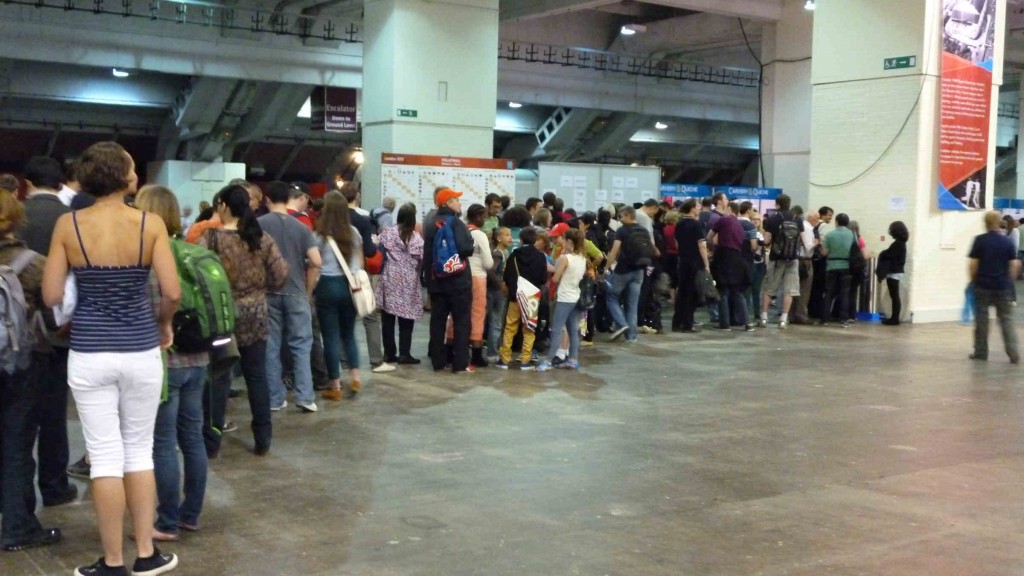 I decided to skip the queue, and purchased a pint of "alternative" refreshment at a cost of £4.60, while spending a few minutes to assess the volleyball match table.
Walking into the spectator ring, I do not know whether the seatings were temporary or not, but they were found to be surprisingly comfortable. I was blessed with a seat which has a clear, good corner view to the volleyball court. The pre-match cheerleader dance and introduction enticed the crowd to warm-up their throats for a decibel-overload support.
Turkey vs. South Korea
The first match was Turkey vs South Korea . With the presence of substantial number of Turkish and S. Korean supporters in the UK and in London, the crowd erupted a deafening roar as both teams entered into the arena.
Regrettably, as reported worldwide by the press, emptied seats in ample bunches were apparent. Looking around the arena I estimated that there were at least 200 seats which were unfilled. It's ashamed that the competing teams would have received more crowd support, at the same time more people would have the opportunity to experience an Olympic atmosphere.
The match between Turkey and S. Korea was a closely contested one. S. Korea displayed an all-round blocking and attacking ability, whereas Turkey possessed lethal spikes often commanded by their No. 17   Neslihan DARNEL . The match went into the 5th set decider, with Turkey edged out and won the match by a mere 3 points difference.  It all lasted over 2 hours so my £45 ticket price was well justified by watching that one game alone!
Team GB vs. Dominican Republic
After an intermission with a chance to grab a couple more strong refreshments, the well anticipated   Team GB women's volleyball team  arrived in the arena. Without doubts, supporters for the host team were the majority in the stadium – a seismic-like quake broke out on the flooring, followed by tsunamic chants of "Team GB…Team GB…Team GB!". There was an air of healthy optimism that they could emulate their  assuring win against Algeria , to beat Dominican Republic, whose world ranking at No. 11, and ascending to the next stage.
For the GBR volleyball team,  their path to arrive at the London Olympics has been an enduring and emotional one, along with the team member's personal sacrifice, struggle and determination. Looking back at their lowest prospect in August 2010 , it was a miraculous and a heart-warming story that the team ended up competing in front of us in Earls Court, and deservedly so!
Back to the match itself…Team GB was unsettled in the first set, and gave away easy points in a number of unsuccessful reception and blocked spike chances. Dominican Rep. took the advantage fully with a convincing 9-25 winning set in just 20 minutes.
Fortune has shifted in favour of the host team in the second set, where Dominican Rep.'s complacence gave way to flashes of brilliant defiance by the trio – Lynne Beattie, Savanah Leaf and Janine Sandell. Their relentless offensive attack tilted the match from 4-11 to 18-23, until a bad run of forced errors ended the second set at 18-25.
There was a sense of belief that Team GB could turn around the situation despite being 2 sets down. The belief became so powerful that it fueled the crowd's enthusiasm, and was set alight blazing by a few minutes of Mexican waves and chanting competition across the stadium. My neighbouring fellow spectators who sat initially neutral and emotionless at the start of the match (perhaps they were supporters from the previous match), were soon carried away and ignited into a platoon of rebellious Team GB supporters.
The momentum was truly felt by both teams, in the third set the game paces picked up, Team GB's out all-out efforts by Michel, Sandell and Beattie brought the score level at 10-10, but a come-back launched by Dominican Rep exploited shortcomings in GBR's defence,  a number of reciprocal and accurate spikes by Prisilla Rivera and Bethania de la Cruz, inevitably sealed the final set and the match victory at 19-25. The match was over in just oven 70 minutes.
Final Thoughts on Team GB's exit
Team GB women's volleyball team, world ranked at No. 69 at the start of the tournament, concluded their Olympic journey by finding themselves in a titanic battle against the world No.5 – Japan in their subsequent match two days later. Regrettably Team GB lost in straight sets and were eliminated from progressing to the quarter-finals.  Japan went on and took bronze in defeat by the world No. 2 – Brazil, while Dominican Rep. lost to the World No. 1 – Team USA who later faced Brazil for the grand finale. USA settled for a silver medal and Brazil won the Women's volleyball  Gold medal  for the Olympic 2012.
So the Olympic fairytale ended for Audrey Cooper's 12-girls team, and critics said hastily that the exit marked the end of a future for GB indoor volleyball as a minor sport. The team were understandably emotional upon their exit – not because of their failure or their dream has ended. It was clear that they took tremendous pride in representing Great Britain, and they enjoy and love the sport that they do.
Despite the lack of funding and much neglected by UK Sport , these girls started from virtually nothing since 2006,  they pooled their own resources to train and to build the team, and above all, to realise their dreams of becoming Olympians. I saw them took part and fought fearlessly with some of the greatest teams from around the world. At the same time they demonstrated to the world that GB have a formidable volleyball team to be reckoned with.
They displayed resilience in the face of adversity; their determination to raise the awareness of volleyball as a sport in the UK is commendable, and their performance in the Olympics has surprised critics and surpassed all expectations.
Most importantly they have achieved legacy for the sport in the UK, and renewed hopes for volleyball to acquire the desperately needed funding for perpetuation.
The positive sentiment, which served perhaps as poetic justice against critics and UK Sport, was established by the president of FIVB Jizhong WEI who reassured the women's team's effort in their post match conference that:
You are a very young team and you have shown that you can offer a legacy. You have given the world a message that Great Britain are here to stay.

You have improved every day and I know that you will inspire a generation.
Mr. Wei praised GB men and women's volleyball teams have made "substantial progress", and he materialised his support by inviting British Volleyball Federation to submit a budget plan to FIVB which has development fund available to invest and develop the sport for the UK. (Yes shame on you – UK Sport!)
After an exciting and dreamy two weeks that has gone by, the Olympics departed from London for Rio in 2016. It is hard to believe that the historic Earl's Court, commonly used for business exhibitions and concerts, was once an Olympic battleground for world-class volleyball where GB volleyball teams carved their future with inspiring success.
For myself and those who were privileged to witness the gallant matches live in Earls Court were refreshingly enlightened,  so there is every reason to be cheerful and remain positive. With the new-found elevated public awareness, funding hope, and the forthcoming European and International volleyball fixtures to focus on, the team's courageous journey has only just begun with a fresh chapter.
Resources
Match Video Broadcast – BBC
http://www.bbc.co.uk/sport/olympics/2012/live-video/p00w30dt
Match result – Official
http://www.london2012.com/volleyball/event/women/match=vow400a11/index.html
FIVB Women's Volleyball World Ranking, 9 July 2012
http://www.fivb.org/en/volleyball/VB_Ranking_W_2012-07.asp
UK Funding for volleyball
http://news.bbc.co.uk/sport1/hi/volleyball/9048998.stm
http://www.bbc.co.uk/news/business-19144983
http://www.insidethegames.biz/sports/summer/volleyball/news/11281-hunt-denies-volleyball-move-intended-to-put-pressure-on-uk-sport
http://www.uksport.gov.uk/pages/historical-funding-figures-olympic/
http://www.uksport.gov.uk/sport/summer/volleyball
http://news.bbc.co.uk/sport1/hi/volleyball/9177319.stm