Last weekend I was lucky enough to visit Bridgnorth in Shropshire. My best friend recommended a good restaurant to visit in Ironbridge.
The restaurant, tugged away in this scenic and beautiful small town, bearing 2 x AA Rosettes and recommended by the 2009 Michelin Guide, must be worth a visit.
We've had a good run of our luck, when my friend called the restaurant for a reservation on the same day: a table was cancelled 10 minutes prior his phone call. So we managed to get a booking on a busy Saturday night.
A 15 minutes taxi ride from Bridgnorth, three of us arrived at the "Restaurant Severn" (http://www.restaurantseven.co.uk/).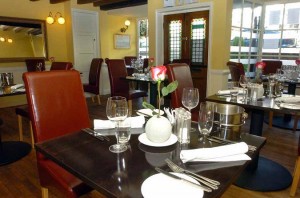 Soon as we stepped inside, we were welcomed courteously by a member of staff. Upon checking, dare I say, "our last minute lucky"  booking, within seconds we were ushered to our seats, and were surprisingly showered with their attentive services with the chef's compliments to follow – a small selection of canapé ensures our appetite remain on "high alert".
A bottle of Rioja  2007 on the wine menu was ordered for the evening to share. Sipping probably the finest wine in the restaurant, we ordered a fantastic selection of food. Starters including roasted Lamb shanks, giant (and they meant it) seared scallops with crispy bacon lacqured with mustard and honey dressing. For the main courses we adventured into dishes such as Beef Wellington, Fresh Welsh lamb chops and Grilled Monkfish tail with crayfish, all served on very hot plates with delicious side vegetables.
Just to put the restaurant to the test – we ordered a selection of fine deserts. My Crème Brulee arrived in a refined layer of crusty caramel glazing, while the underneath custard was complimented with countless fresh vanilla pods. These natural flavours were well presented and they spoke for themselves, all without the typical overpowering sugary taste that we found elsewhere.
After the dinner, we had the honour to speak to the chef, Eric. He spoke passionately of his past experiences and trainings in different establishments, and his continuous effort to bring his restaurants to match his clients' expectation. It is exhilarating to know that he and his wife, Beb, are producing their best for the diners to sample. They fully deserve their accreditations and success.