My PC has been out of action for over a week – due to bad capacitors on the old montherboard. Apologies for not having any updates becasue of it.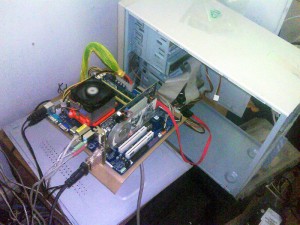 I've just replaced it with a new ASRock N68C-S motherboard.
Based on nForce 630a chipset, It is very nice that it is AM2 and AM3 compatible, and it can accept DDR2 and DDR3 RAM for upward compatibility. It also has a NVIDIA GeForce 7025 onboard graphics. Above all that – the price is only £35!
This is what my PC currently looks like.